Dental Bridges – Little Ferry, NJ
A Natural-Looking Way to Re-Complete Your Smile
The consequences of tooth loss can take their toll over time, so you should be proactive about having the gap in your smile filled as quickly as possible. In many cases, Dr. Erin Peters may recommend getting a dental bridge – a traditional form of tooth replacement that can be designed to blend right in with your remaining natural teeth. If you're looking for a solution to missing teeth, call our office to ask about having a dental bridge placed.
Why Choose Erin Dental for Dental Bridges?
High-Quality, Lifelike Bridges
Partnered with Local Specialists for Implant Placement
Comfortable Office That Feels Like Home
What is a Dental Bridge?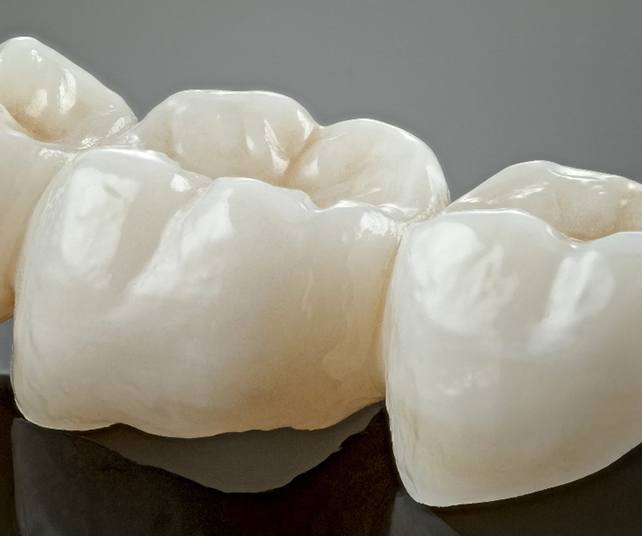 While a single crown can be used to repair a decayed or injured tooth, a dental bridge is used to fill in the space in your smile after a tooth has been lost or extracted. A dental bridge is traditionally anchored to the natural teeth adjacent to the gap being filled, but it can also be supported by dental implants depending on the circumstances.
Types of Dental Bridges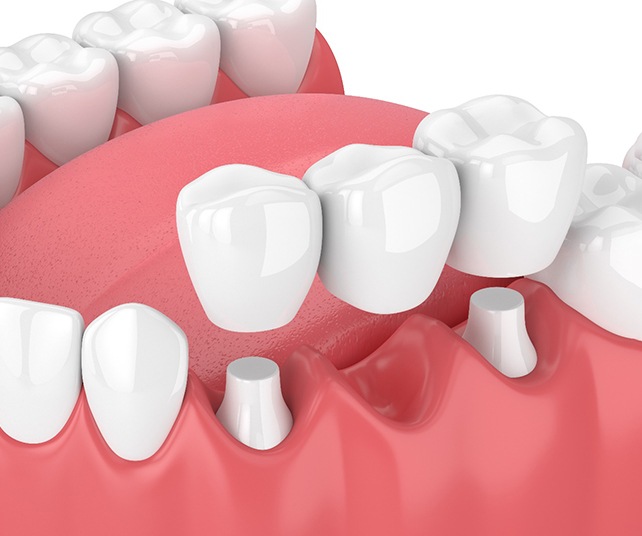 Should you get a traditional bridge or an implant bridge? The answer is different for everyone; after all, each patient is unique, and their circumstances need to be taken into account before any kind of treatment can be planned. During your initial examination, we can explain which type of bridge is right for you and give you our reasoning for our recommendation.
Traditional Dental Bridge
If you're missing at least one tooth, you may be able to get a dental bridge as long as you still have healthy teeth that are capable of supporting it. Like single crowns, bridges can be made out of materials that closely match the color and light-reflecting properties of your tooth enamel. As a result, the average person won't be able to tell the difference between your bridge and your real teeth.
Implant Bridge
Two dental implant posts are needed to support a bridge. As such, an implant bridge is typically recommended for patients who have already lost multiple consecutive teeth. Generally speaking, implant bridges tend to last longer than traditional ones. They also offer more chewing power, making it easier to eat all kinds of foods.
The Benefits of Getting a Dental Bridge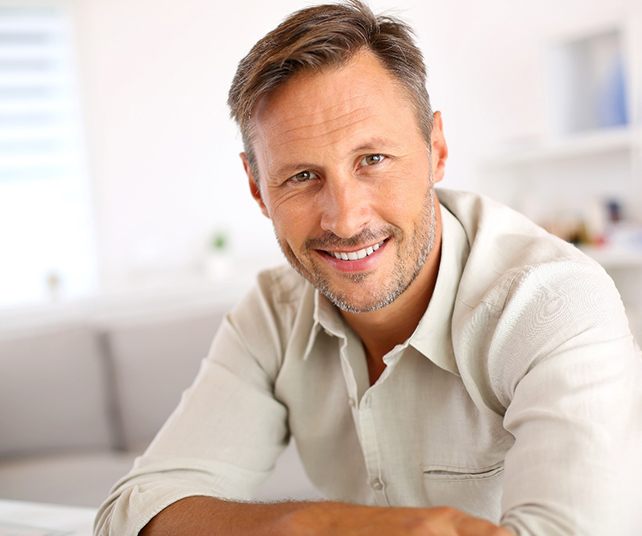 Is getting a dental bridge worth it? Plenty of patients will tell you that the answer is, "Yes!" Whether you get a traditional bridge or an implant bridge, you'll be able to enjoy a number of advantages, such as:
An Enhanced Appearance: You won't have to feel embarrassed anymore once the eye-catching gap in your smile has been filled with a bridge.
A More Varied Diet: Having a complete set of teeth again will let you eat more kinds of foods to help you stay healthy.
Preventing Misalignment Issues: With a dental bridge in place, you won't have to worry about your remaining teeth drifting and throwing off the alignment of your bite.